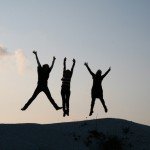 Happiness – The Ultimate Quest.
In this talk Kevin examines this most elusive of all human pursuits, happiness.
So few of use even understand what we are searching for, yet we will proclaim this to be the all important aspect of life's journey. This talk covers:
What do we think happiness is?
The Happiness Equation
What are the aspects of life that will lead to fulfillment.
Food, exercise, and drugs – the chemical connection.
The secret of fulfilling work.
Benefit:
To the company: Your employees will leave with a greater understanding on how to be happy and fulfilled doing the work they are doing. Greater fulfillment = greater productivity.
To the individual: You will leave with an understanding of your inner desires for your search. Learning how to maximise your activities to generate the greatest amount of life satisfaction.